There's a reason the spring season is so closely associated with the metaphor of rebirth—flowers bloom, the sun shines brighter, and layers (both literal and metaphorical) are swiftly shed. It's a time of year when everyday life feels imbued with energy and a sense of buoyancy. Naturally, this cheery sentiment extends into your personal space and for our Head of Brand and Editor in Chief, Jessica Teves, it's the perfect time to give your bedroom a design refresh. "What do I love about spring? The airiness of it all," she says. "The season has an optimistic lightness in its DNA—longer days, warmer weather and with that, I always lean into lighter fabrics and easy, elegant pieces made for relaxation."
Among those products that fit her criteria are home essentials made from organic materials and with all-natural composition, a pillar of her design direction. "Using nontoxic and certified organic materials and cleaning products is incredibly important to me," she shares. "Being environmentally conscious and sourcing from ethical companies with sustainable business practices can only help safeguard the health of my family and the planet."
Enter Avocado—a sustainable organic home brand handcrafted in California that meets all of Teves' requirements (and then some). The company is renowned for its accessibly-priced green mattresses as well as their organic and natural pillows and bedding. Ahead, our EIC shares three easy, effective approaches to giving your bedroom a seasonal facelift centered around Avocado's portfolio. From color palettes and textures to decor accents and lighting fixtures, dive into all the ways you can start spring off on the right foot.
Look 1: Light Neutrals + Natural Textures + Pale Pops of Color
The first thing you should know about Teves is that her design philosophy is all about easy elegance. "It's my through-and-through," she says. "I like to invest in high-quality pieces that stand the test of time, and, as needed, with the seasons and different moods, add in pale pops of color to complement and invigorate the space." For spring, she suggests beginning with a base of light neutrals and natural textures (think: house plants, wood furniture, and ceramic accents). From there, you can add in a hint of color to create subtle contrast.


Look 2: Earth Tones + Wood and Woven Decor + Boho Bedding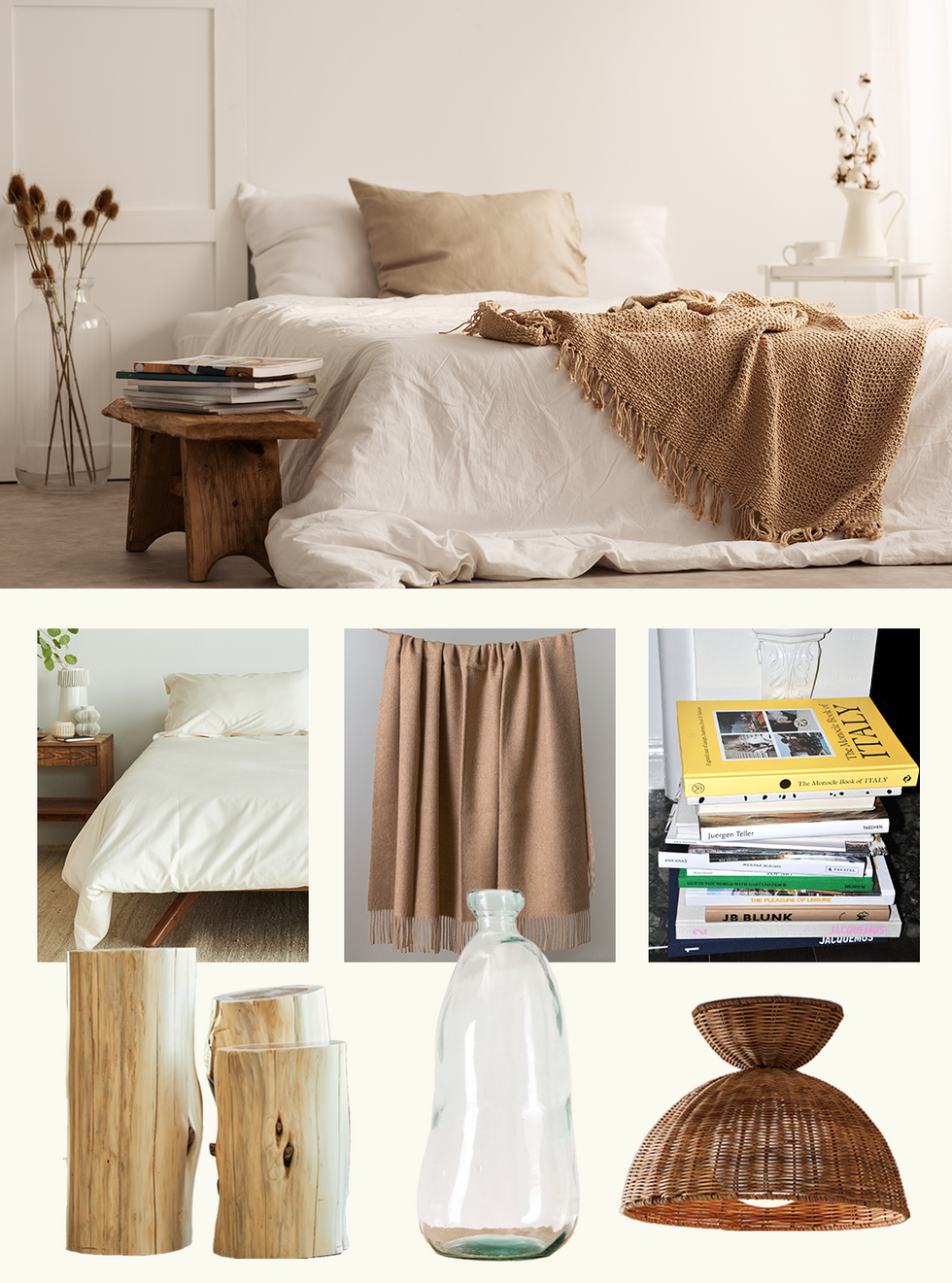 "I pretty much live by the idea that neutral colors and natural, organic textures pair well with everything," Teves shares. And being a south Florida native, she adds that you can count on rattan anything being fair game in her book. The easiest way to achieve this aesthetic, she says, is by overhauling the color scheme in your bedroom and opting for earth tones like creams, warm browns, and other calming naturals. Then, add in decor and furniture crafted from natural materials like wood and woven (bonus points if it's a rattan lampshade). Finish off with a plush white duvet cover and a throw pillow and blanket in tonal browns.


Look 3: Graphic Shapes + Modern Accents + Moody Colors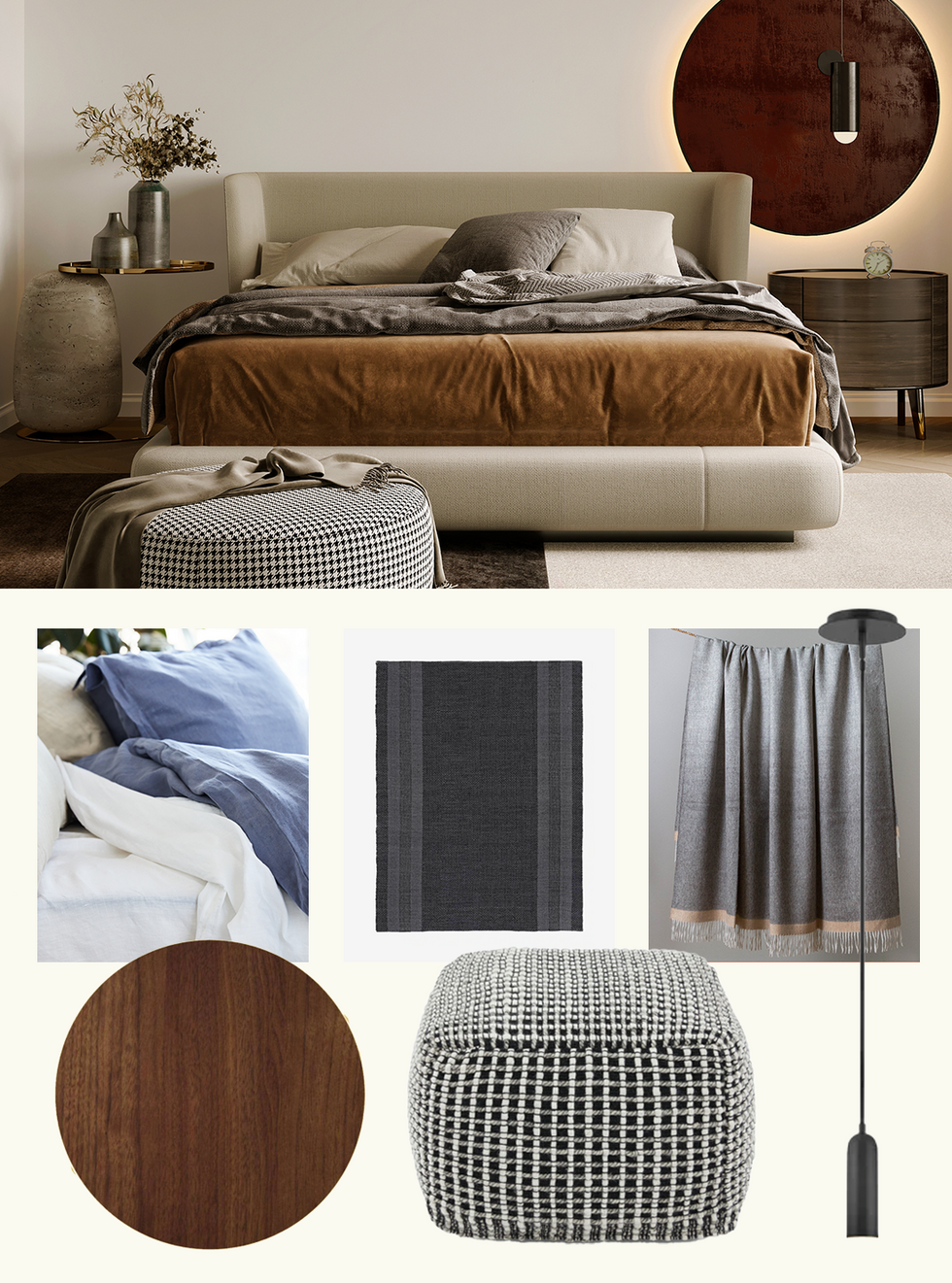 Though you might associate spring with bright colors, there's something about the bedroom that warrants a zen approach—and sometimes that can translate to a deeper palette. "I love a bright pop of color, but in my bedroom I tend to favor subtle hues that enhance the feeling of relaxation and luxury," Teves notes. Let this design ethos manifest through moody colors like a steely gray and warm beige complemented by graphic shapes and modern accents (industrial lighting fixtures are always a safe bet for achieving this as is a statement rug or side table).
window.REBELMOUSE_ACTIVE_TASKS_QUEUE.push(function(){
var makeMonitor = (getStatus, cb, delay) => { delay = delay || 100; var monitor = () => { var time = +new Date(); var status = getStatus(); if (status) { return cb(status); } else { if (!stopMonitor && +new Date() - time < 30 * 60 * 1000) { monitorId = setTimeout(monitor, delay); } else { cb(false); } } }, cancel = () => { stopMonitor = true; clearInterval(monitorId); }; let monitorId, stopMonitor = false; return { start: monitor, cancel: cancel, }; };
var leftArrowCarrousel = makeMonitor( function () { return document.querySelector( ".shop-sidebar.shop-posts .posts-wrapper .slick-next" ); }, function (res) { res.addEventListener("click", () => { gtag("event", "Left Arrow Click", { event_category: "Shopping Module", event_label: "Previous product at carrousel", }); }); } );
leftArrowCarrousel.start();
var rightArrowCarrousel = makeMonitor( function () { return document.querySelector( ".shop-sidebar.shop-posts .posts-wrapper .slick-prev" ); }, function (res) { res.addEventListener("click", () => { gtag("event", "Right Arrow Click", { event_category: "Shopping Module", event_label: "Next product at carrousel", }); }); } );
rightArrowCarrousel.start();
var buyButton = makeMonitor( function () { return document.querySelectorAll( ".shop-sidebar.shop-posts .posts-wrapper .widget__product-buy-link-btn" ); }, function (res) { for (let button of res) { button.addEventListener("click", () => { gtag("event", "Buy button click", { event_category: "Shopping Module", event_label: `${button["href"]}`, }); }); } } );
buyButton.start();
var imageShopp = makeMonitor( function () { return document.querySelectorAll( ".shop-sidebar.shop-posts .posts-wrapper .widget__head a" ); }, function (res) { for (let image of res) { image.addEventListener("click", () => { gtag("event", "Image click", { event_category: "Shopping Module", event_label: `${image["href"]}`, }); }); } } );
imageShopp.start();
var productTitle = makeMonitor( function () { return document.querySelectorAll( ".shop-sidebar.shop-posts .posts-wrapper .widget__headline .widget__headline-text" ); }, function (res) { for (let product of res) { product.addEventListener("click", () => { gtag("event", "Product title click", { event_category: "Shopping Module", event_label: `${product["href"]}`, }); }); } } );
productTitle.start();
});
window.REBELMOUSE_ACTIVE_TASKS_QUEUE.push(function(){
window.REBELMOUSE_STDLIB.loadExternalScript("https://s.skimresources.com/js/150311X1615657.skimlinks.js", function() {
});
});
window.REBELMOUSE_ACTIVE_TASKS_QUEUE.push(function(){
!function(f,b,e,v,n,t,s){if(f.fbq)return;n=f.fbq=function(){n.callMethod?n.callMethod.apply(n,arguments):n.queue.push(arguments)};if(!f._fbq)f._fbq=n;n.push=n;n.loaded=!0;n.version='2.0';n.queue=[];t=b.createElement(e);t.async=!0;t.src=v;s=b.getElementsByTagName(e)[0];s.parentNode.insertBefore(t,s)}(window, document,'script','https://connect.facebook.net/en_US/fbevents.js');fbq('init', '1248680838922690');fbq('track', 'PageView');
});
window.REBELMOUSE_ACTIVE_TASKS_QUEUE.push(function(){
window.REBELMOUSE_STDLIB.onElementInViewport({ threshold: 400, selector: "video", oneTime: true, onIntersect: function(entry){ var element = entry.target; element.setAttribute("allow","autoplay"); element.loop = true; element.muted = true; element.autoplay = true; element.setAttribute("playsinline","true"); //element.controls = false; element.play(); } });
});
https://coveteur.com/our-eic-shares-3-ideas-for-a-spring-bedroom-refresh